Dear Residents,
With the latest government regulation on minimum wages for security guards and general inflationary pressure have created a cost problem for us.
The RM50 fees per month (since about 2006) is no longer sufficient to maintain the security services.
Even if the collections rate is 100% of households, we would not be able to meet the security expenses going forward.
An increase in monthly fees is unavoidable if we want to maintain the guards services.
In the recently concluded AGM (27 March 2011) the PHRA presented its accounts of 2010 and budget for 2011/2012. These documents can be found on the web (http://puchonghartamas.com/). The full justification for an increase is contain therein. Also at the said AGM, it was resolved that the monthly security fees been increased to RM80 starting 1st April 2011. This is the minimum that the PHRA can work with and it includes a small portion to be allocated for the sinking fund.
The sinking fund is essential for maintenance, repair and beautifying works not under the responsibility of MPSJ. Going forward, the PHRA has agreed with MPSJ on a PHRA-driven initiative to endeavor to make Puchong Hartamas a model Taman in the municipality. Our plans which will be collaborated with and submitted to MPSJ will be circulated to PH residents soon.
As a sneak preview of one of the efforts in terms of landscaping, our KPI is Kim Crest. Residents are encouraged to take a drive around Kim Crest. There are many more endeavors.
It is hope that all residents will understand and comply with the increase. Should you have any query, please contact the undersigned or any PHRA Committee Members.
Thank you.
Yours sincerely,
Yeak Na Siew
PHRA Chairman 2011/2012
---
Budgeting of 2011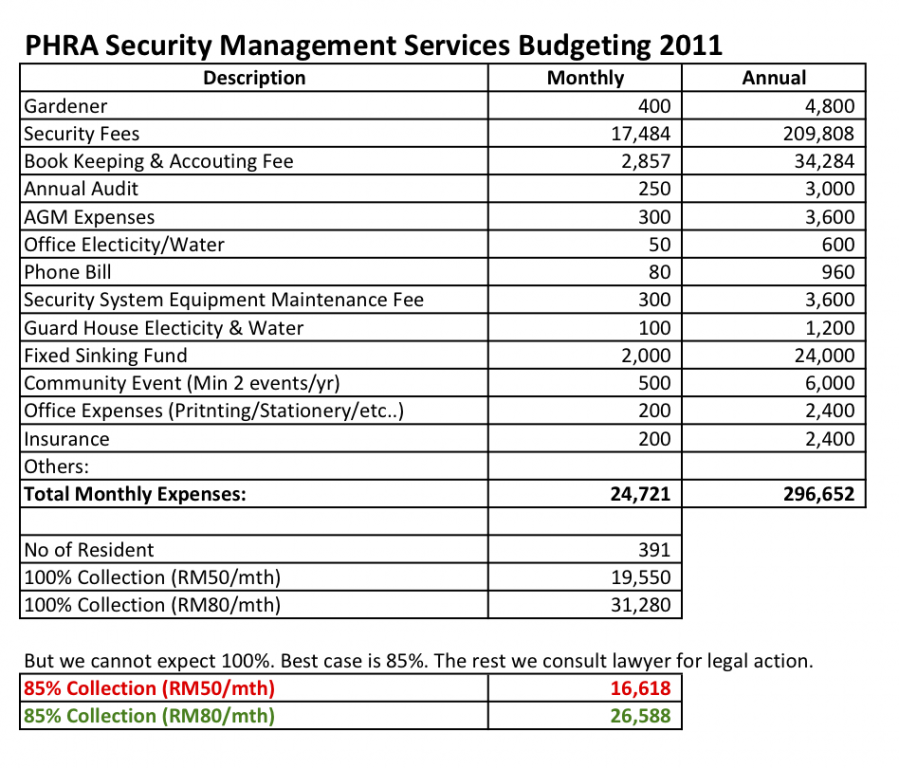 Accounts of 2010 is attached in this post.