The Saturday 5PM Residents Meeting (31st Oct 2009) gave us a conclusion that security is an important part of life that cannot be taken lightly. For the benefit of those residents who were not able to attend, you can read more below.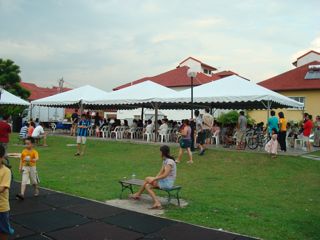 We note that some residents who are living in Taman Puchong Hartamas didn't realize how safe we already are and took Gated Community for granted. In a way it is a good thing because this is the quality of life we are deserving. But we need all residents to understand that such Gated Community have a lot of challenge to manage.
From some newspaper articles we posted, you can see that crime rate in our country is getting worst until such that we have to take up the safety issue into our own hands. One resident told me he has been searching for a safe place to stay and he saw many people staying in Taman Puchong Hartamas can go for morning walk, evening jogging, letting kids running around and playing in the playground. That's the reason he bought the house here. He admitted he could not feel safe without good security.
When we choose to take the safety into our own hand, we purposely design this place with wall, one entry/exit path, guards, guardhouse, access card, blockage bar and communication system. All these are the facilities used to operate a Gated Community. There will be an entity to manage these things and hence called Security Management Services. The tasks of Security Management Services are looking into the quality of the security guards, upkeeping of facilities, collecting fees from residents so that it can be used to pay guards salary and repair works (sinking fund).
According to Supplement Agreement we signed when we bought the house here, the Developer agreed to help managing Security Management Services for 18 months. After that residents in Puchong Hartamas must setup Residents Association to take over the responsibilities and every facilities come with it.
The Saturday Residents Meeting was deciding on whether we should receive such responsibilities in proper manner or not. If proper manner, then whatever as mentioned in Supplement Agreement is maintained, everything just follow the order. If not in proper manner, then we may risk losing some facilities and supports from some residents.
The Supplement Agreement forces everyone to pay for the security services whether you like it or not. After all you are staying in Taman Puchong Hartamas, which is safer than without Gated Community. And also security is everybody's responsibility.
We are glad that all residents almost unanimously choose Option A for proper hand over. The turn out is about 150 residents. There is 100 of them voting, 96 choose Option A, 3 choose Option B and 1 choose Option C. This mean everyone wants security done in proper manner, no compromising.
It is now left to PHRA to resolve pending issues with Developer and local council MPSJ.
What we have decided on the Saturday was only "yes, we agree to take over with proper hand over." There are much more work to do especially negotiating with Developer for things that had been causing the delays in the past.
We believe we can get things done properly this time because a lot of efforts had been putting into repairing past broken relationship. We also maintain good relationship with local council. We are working on win-win-win situation for residents, developer and local council.